#SoSueMe…(Tweet heavy) :)
June 29, 2014
.
~
Kasai™ @Kahsai
Follow
@TheObamaDiary Let me get this straight!
Did I just hear ..You wanna do what to my husband?
3:25 PM – 28 Jun 2014 24 Retweets 13 favorites
~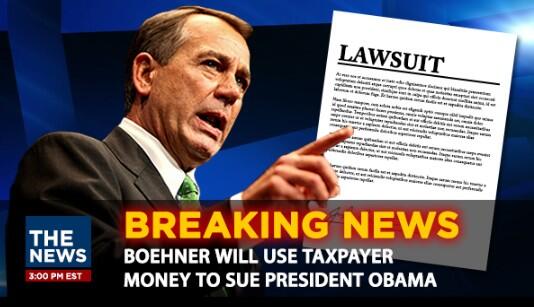 When Bush the Lesser was the President…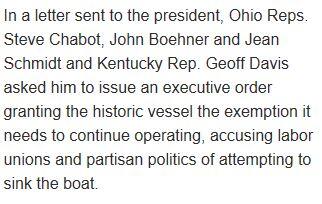 Jesse Lee ✔ @jesseclee44
Follow
Here's @SpeakerBoehner demanding a Bush EO to save an historic boat Congress had rejected: http://archive.cincinnati.com/article/20081204/NEWS01/812040397/Local-reps-ask-Bush-Save-Delta-Queen …
8:09 AM – 25 Jun 2014
43 Retweets 8 favorites
~
So the hypocritical, so-called-christian, anti-frivolous lawsuit, budget watching assholes, are going to use taxpayer money to sue President Obama in a lawsuit that that claims he is doing what other presidents have done in the past with no objections from them before now?
They might as well since they used taxpayer money to vote to repeal the ACA (ObamaCare) what, 54 times?
AND FAILED EVERY TIME!
They cost the taxpayers  more than 24 billion dollars, that's $24,000,000,000 , by shutting down the government in a whining temper tantrum thrown by Raphael Edward Cruz and reTHUGliCON teabaggers because they are assholes.
The shutdown produced nothing but hardships for government workers and America, and proved that the GOP and reTHUGliCONS have no respect for this country or President Obama and that they will fight and obstruct him in any way they can no matter how much it hurts the country or its citizens.
Sorry. Back to the tweets. 🙂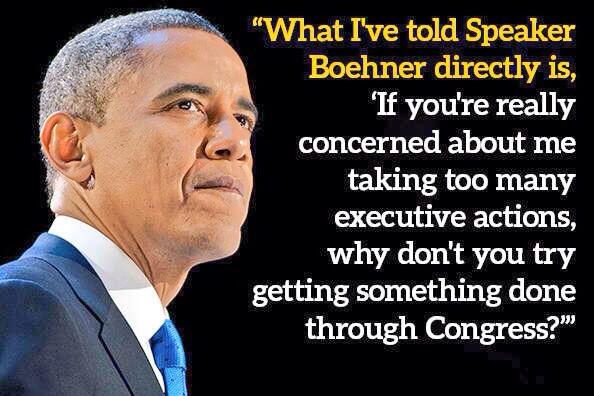 sfpelosi @sfpelosi
Follow
#SoSueMe
7:52 PM – 27 Jun 2014 137 Retweets 82 favorites
The White House ✔ @WhiteHouse
Follow
"If you're mad at me for helping people on my own then join me and we'll do it together." —President Obama to Republicans and Congress
5:40 AM – 27 Jun 2014 630 Retweets 478 favorites
~
Andie the Obamanista @andie_walsh
Follow
They real mad.
#SoSueMe
3:38 PM – 28 Jun 2014 Buffalo, NY, United States 30 Retweets 23 favorites
~
TheObamaDiary.com @TheObamaDiary
Follow
"Come on Barack, we gotta take this lawsuit seriously." #SoSueMe
3:18 PM – 28 Jun 2014
25 Retweets 22 favorites
~
~
BWD @theonlyadult
Follow
I got Bin Laden. #SoSueMe
3:30 PM – 28 Jun 2014
39 Retweets 27 favorites
~
@theonlyadult
Follow
#SoSueMe (Oh, actually you did, and lost).
3:33 PM – 28 Jun 2014 29 Retweets 25 favorites
~
Maybe there's something in the air in Minnesota.
During a two-day trip to the Gopher State, the president referred to himself Thursday as a "caged bear," who is on the "loose" when he's able to get outside the White House.
Then, on Friday, the bear was apparently riled up. Smarting from House Republican opposition that announced it was going to sue the president over his use of executive action, the Obama grizzly declared he was going to "say what's on my mind."
"They're not doing anything, and then they're mad at me for doing something," Mr. Obama said of Republican
http://www.pbs.org/newshour/rundown/energized-president-obama-mocks-house-republicans-lawsuit/
President Obama is the only adult in the room and he is pissed!
I just hope he keeps going after them and calling them out on their obstructionism, arrogance and stupid stunts that they are pulling, and will, pull in the future.
~
more funny #SoSueMe tweets: https://twitter.com/hashtag/sosueme?f=realtime&src=hash
http://theobamadiary.com/2014/06/26/please-proceed-gop/
According to National Archives data going back to 1929, President Obama has issued fewer executive orders, per year, than any President.  archives.gov/federal-regist…
Thank you for visiting.
~
New species of mouse-like creature with 'elephant trunk' discovered

A mouse-like creature with an elephant's "trunk" has been discovered in a remote desert in Namibia.
The new species is known as an "elephant shrew" and is a type of round-eared sengi.
The tiny creature is the smallest known member of the sengi family with a body just 9cm long and despite its size, is more closely related to elephants, manatees and aardvarks than to shrews.
It was discovered by researchers from the California Academy of Sciences during research on their cousins in southwestern Africa.
More:
http://www.independent.co.uk/news/world/africa/new-species-of-mouselike-creature-with-elephant-trunk-discovered-9566297.html